Long and Short
I so badly want to write and update and "talk it out," but in some ways, I haven't a clue where to start! I mean one post in over a month? YIKES! I tried to do this a couple days ago . . . more time went by and no closer to posting. So I'm going to post with or without pictures, with or without good words! The long and short?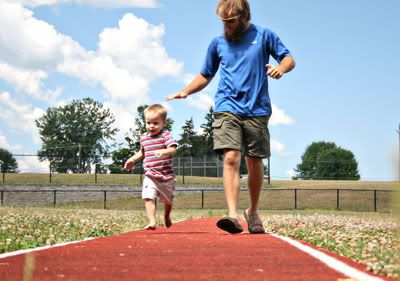 (racing at the track I ran in high school, in Cato, NY)
LONG? Four glorious weeks in NY- hanging out at my parents' house, bonding as a family, relaxing, bike riding, visiting with my brother & his beautiful wife. Driving 6 hours to PA to visit Jer's family, catching up with friends, seeing a bear in the yard. Getting to see my "internet friend" Melissa and her precious children, again!
SHORT? Returning to Florida just in time for staff training. We had a great week learning fantastic things to help us reach these precious boys. From the practical (CPR and Non-Violent Restraint Training) to the creative (dealing with tantruming, neglected children); it was fantastic. I felt better emotionally prepared to start this year than in past years, which was nice!
And on Sunday we started "Round Ten" here at the Ranch, with two precious boys! This evening we got a third and tomorrow morning we're at four! It's been a good week so far- working around the cottage and loving on these two boys.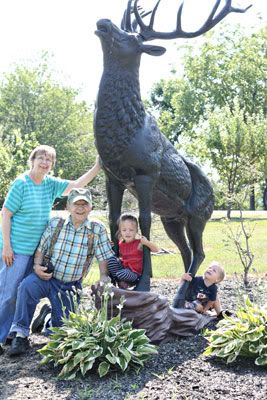 (enjoying time with Jer's parents in PA)
Shannon and Forest are doing well- adjusting to being home, then adjusting to having a baby-sitter every day for a week, now adjusting to the boys being back . . . all things considered, they are doing well. We've had to do some intentional parenting and work on discipline and attitudes, but when I consider what the last month + has involved, not bad!
So that's where we are. Hopefully I can get back to updating soon. The next two weeks will be filled with lots of adjusting- new boys, old boys, younger boys . . . getting our family back on routine. I also told Shannon we could "start school" after the boys come back, which means I need to really get some planning time in!
And I'd really like some time to share about the work God has been doing in me this summer- areas of conviction, motivation, encouragement. I feel a huge peace about life right now. Challenged to really step-up in certain areas. Excited about things I see God moving "on the horizon." Being with God is a great place-that place of peace and potential excitement.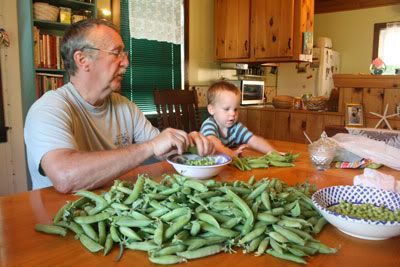 (Enjoying fresh peas at my parents' house)
I get scared sometimes that time is going too fast. Weeks like this, where our boys are only in school for 4 hours- there just isn't enough time for even the "normal" things- I have to "triage" life- get us fed and make sure we have clean clothes. Try to squeeze in paperwork, a little cleaning and that's about it. Sometimes I get scared that decisions are made or actions taken, that aren't the greatest, in the "filled days" that weeks like this have. Which all goes back to what I learned this summer. Trying to really pray for God to direct each little step!
Love ya friends, talk more next week :)