And then there were . . .
Just a quickie update as we head into the weekend . . . the weekend during which we go from these delightful four boys . . .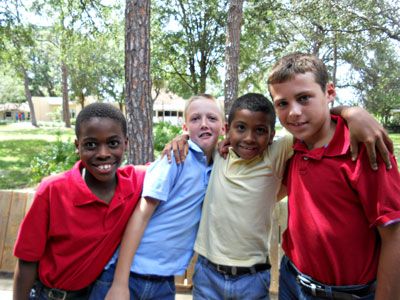 to EIGHT! Um yup, you read that right! We're getting four boys on Sunday night . . . one returning 11 year old, the 8 year old brother of him and two brand-new boys! Should be a very . . . um . . . interesting . . . night. If you think of us between 6:30 and 8 pm, please pray! We have to get them all signed in (interacting with families, etc.), showered, ready for bed and given their "new boy" talk. And then put them all in bed and hope for the best!
In case you don't remember, we work at a children's home where boys with discipline and behavior problems live. They come to us for 1-2 years and we are their "substitute" parents. Oh and they all share a bedroom . . . so bedtime can be interesting on occasion!
Otherwise, this has been a good adjustment week for us. We are slowly getting back into our routines- fitting in time for "school" for the kids (Shannon is learning to read, we are doing numbers all together and they are both working on various stages of handwriting), trying to get the house back in order (I will shock you in a week or two with pictures of our closets), and in general back to normal! Four weeks of vacation is great but is hard on routines!
See you soon!