From Pinterest to Reality
How to use Pinterest to help you . . .
All these "social media" things are good . . . only if they are HELPS for us on our journey of motherhood, wife-hood (is that a word) or with our work. When we just stare vacently at the screen, they are life-suckers. And yes, I've been guilty of that at the end of a day, too! But when we use the ideas we've collected to make yummy dinners, teach important lessons, make our homes more beautiful or bless others . . . then it's a wonderful thing!
I wanted to show you a fun project I've been working on and how I used Pinterest to get there! (All pictures are from the site that is linked) A co-worker's baby shower is coming up and I've been busy collecting ideas and planning.
BABY SHOWER!
1. Figure out a general theme or idea- browse for those ideas. I was looking for Baby boy and ended up with a "book shower" idea- bring a book instead of a card to go with your gift.
2. I ended up here, at the
Martha Stewart site
and her cute "Library Shower" Idea.
3. I started looking around for some invitation ideas and came across this idea for "old book" envelopes from this
lovely Etsy shop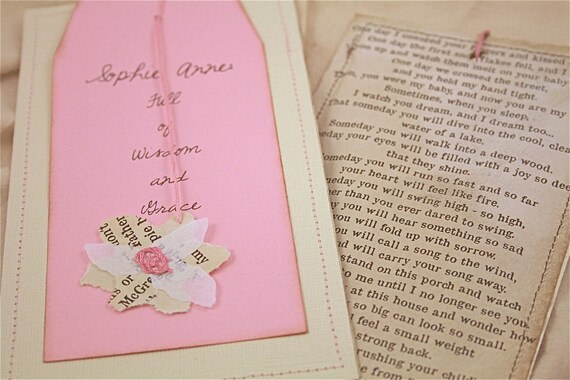 4. A bit more browsing led me to
HGTV's site
, where they have 17 different FREE blank invitations! (Seriously, some really cute ideas on here!!!!) I downloaded this one
5. Found a really cute printable "book plate" that includes spot for a message to the baby from this
Fun Blog
,
Nested
.
Now, make it your own!!!! This part was fun- messing with colors and ideas until I got the perfect thing for the shower. The best part? I used all materials we had laying around the house!!!
1. Found an old pre-teen age book and ripped all the pages out, trimmed them to make little "envelopes." Most of the people being invited are here at the Ranch, so that helps- I didn't have to worried about postage. Sewed the three sides together with my sewing machine, wrote the name with a sharpie and added some paper flowers & brads from my old paper-scrapping days!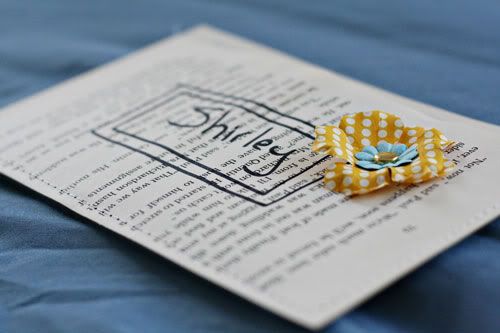 2. Changed the color of the invitation with PSE, to a pretty blue. Printed it on grey paper (baby's nursery will be grey/white and blue!). Typed up an instruction sheet for the "book plate," using part of the invitation modified to match.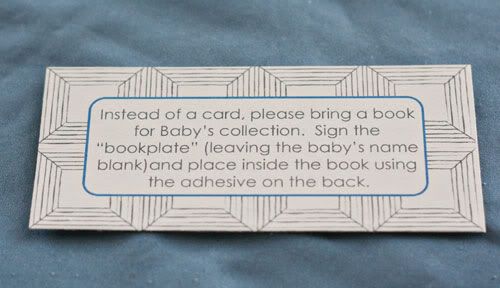 3. Added a little owl to the book-plate, to add to the "baby cute" idea. Owl is from Sweet Shoppe Designs, Jenn Barrett.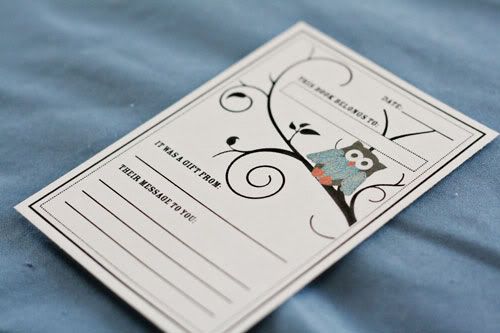 4. Using strips of yellow paper, for contrast, clipped everything together.
5. Stuffed in the envelopes!
So fun, huh? And all from a little Pinterest inspiration . . .