It's Potty Time!
I'm here . . . knee deep in potty training! A combination of things this week led me to realize it was time.
#1. Forest's cloth diapers aren't working anymore . . . nothing wrong with the diaper, the kid just pees TOO much. And I just don't want to start pouring money into disposables at this point.
#2. At random times we'll ask Forest if he wants to sit on the potty and he'll sit there until he "squeezes" something liquid out.
So after much boo-hooing to my friend Melissa, I decided it was time for ME to suck it up and just do it. She lent me her "three day" plan . . . which (in my words) is basically spending three days, at the side of your child, paying attention. It doesn't involve putting your kid on the potty every 20 minutes (tried that with Shan = miserable fail), but rather, reminding them to "tell Mommy when you have to pee!"
Anyway, methods aside, we are on day two and I think he's got it! No really! By 1:30 he had 2 accidents (one was when he was running around outside and one was first thing in the morning when he was alone, reading). And he had SIX times peeing on the potty . . . ALL initiated by him!!!!! At one point I was even washing dishes while he was off playing and he walked into the room and told me he had to go- walked with me into the bathroom and went!
Today was also his first BM- he told me he had to go potty, sat down and a few minutes later proclaimed there was a SHARK in the potty! HAHAHAHAHA! I died! Love that boy.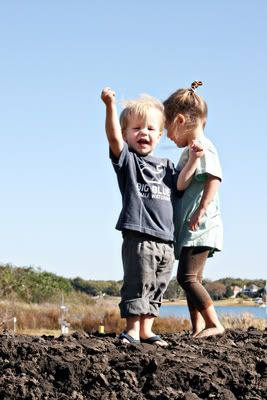 So anyway! I know we are no where near done, but it's a good start.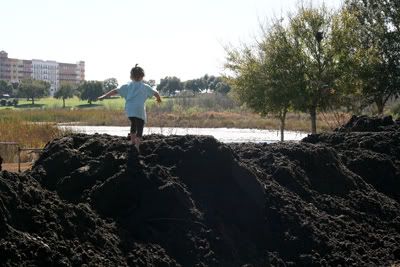 Shannon is enjoying these giant mountains of dirt that were put in our backyard, to fill in the sandy rutted-up road. While I always let my kids play in dirt, let's just say I've never seen anything like this. IMPOSSIBLE to remove. Sigh. The things we do in the name of "good for our kids!"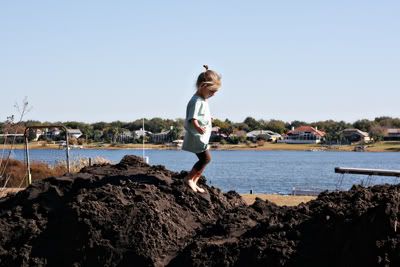 Boys go home this weekend- been an interesting month in the cottage. One boy released due to some serious attention- grabbing behavior (self-harm) . . . we sure loved him but we just can't keep kids here who are a danger to themselves and potentially others. Two other boys who are knee-deep in HUGE trouble- terrible talking back and arguing! Sigh. But all-in-all it's been pretty peaceful around here (as much as 6 boys in a house can be!) and we're enjoying the calm before the storm of new boys, that we're sure to get!