Some thoughts
Well, my big commitments from the past couple months are over . . . Shannon's Birthday, baby shower for co-worker . . . I had planned to potty-train Forest when those things were done, but as I mentioned, he took care of that already :) Yup! He's doing great- we still have an accident or two a day but when you go the bathroom 15 times and only 2 are accidents, well this mamma ain't complaining! So cute to see a little Thomas the Train booty running around all day!
I've still been feeling kind of cruddy ever since we got sick, but had energy this afternoon, the first in a while, so I'll take it! Busy weekend coming up- it's our job to make dinner for everyone on Saturday night; a group is coming to make Valentine's with the boys in the afternoon. Superbowl party on Sunday night (thankfully NOT at my house!). And a younger boy is being moved up to our cottage, as a last-ditch attempt to keep him here. He hates all authority and already gives Jer fits at PE class . . . so I don't think it's going to be a pleasant experience but at least we can say we've tried.
Wanna see some random-life pictures? This is my life- crazy, hectic and full . . . but I'm thankful for it. You know, if it was up to me, I'd chose an easy life- being a stay-at-home mom. Just me and my kids. But you know what? Life here in earth is NOT about being easy. No where in scripture does it say that I have a "right" to stay at home with my kids, with no other responsibilities. Is that ideal? Yup.
But God chose a different path for our family- a hard path, filled with sacrifice of self, time, privacy. A path filled with much more stress & drama. Being houseparents sure isn't easy but someone has to do it. In our generation, sin has broken families in such terrible ways. And the kids are who gets ruined. Don't believe me? Come visit the Ranch and see our 60+ kids . . . all the result of broken families.
Would I still rather just be a SAHM? Yup! But I'm really trying to embrace the responsibility that God has given me and focus on the positives. Do I hate eating in a cafeteria? Yup! I'd take the stress of making dinner for my family every night over dragging my kids to a dining hall where 70% of the time they don't eat the food anyway . . . I'd take it any day! But that's not what God chose and that's okay.
Enjoy!
This is Forest on your average night- tucked into his chair, not wanting to wear his shoes and waiting (im)patiently for mom to bring his food to the table.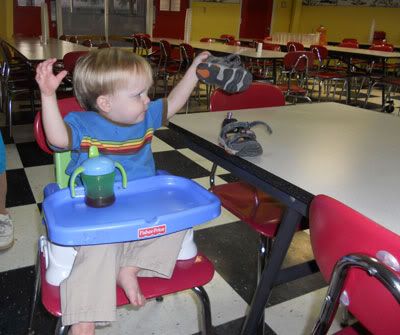 Halfway through dinner . . .Shanon's friend comes to visit (meaning no more eating for Shan).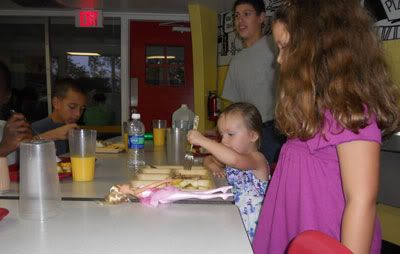 We all sing for birthdays . . . here you get our view from the back of the cafeteria- Shannon is the small figure under the arrow, being sung to for her 4th birthday!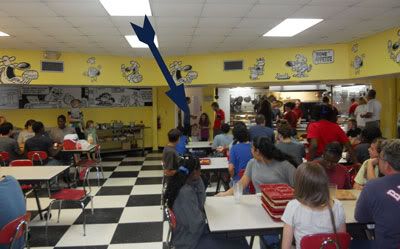 From Shannon's birthday with the boys- Forest bringing his present.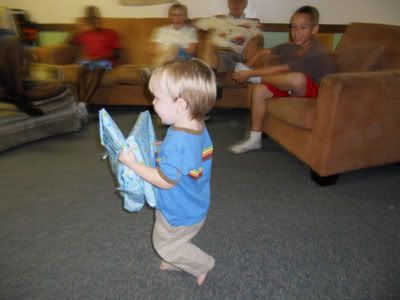 He got her a Rupunzel dress . . . think she liked it?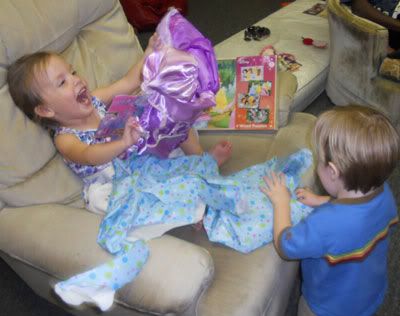 And that's how we roll around here! Hope your weekend is blessed!